Welcome to Graphic Media Alliance
Welcome to our new Graphic Media Alliance (GMA) website. We are excited to present our new website and keep you up to date on everything going on with the Association and in our industry.
Nobody knows what normal is today, but in our effort to move forward we are holding all three of our major activities this fall, starting with our Leadership Conference and Golf Tournament, both in September, and our Print Excellence Awards print contest, which launches in September. We plan to keep all members actively engaged through the remainder of the year and going forward.
Our GMA team has come up with a unique approach for our Leadership Conference on Monday, September 14th. The plan promises not only to provide relevant content while observing all necessary safety protocols, but to also provide outstanding networking opportunities for you to spend time with your fellow members and industry peers. We will be hosting a virtual, half-day conference. Nationally known speakers will be presenting via Zoom and as a conference attendee, you can choose to attend from your office, conference room or in-person. Speakers for this year include PRINTING United Alliance President, Ford Bowers; Publisher of CANVAS Magazine, Mark Potter; PRINTING United Alliance and well-known Chief Economist, Andy Paparozzi; and PRINTING United Alliance Government Affairs extraordinaire, Lisbeth Lyons.
If you're tired of virtual, virtual, virtual and would like to safely network with your friends and peers, then join us in person in Westerville, Ohio at the Everal Barn and Homestead. GMA staff and Board members will welcome members and friends to view the Zoomed presentations together, while enjoying refreshments, lunch and in-person interactions. PEA Best of Category and Best of Show winners will be recognized during the Millcraft Grand Ceremony presentation immediately following lunch, and winners can receive their awards in person if attending the local conference site.
This year's Leadership Conference will close with a word on Diversity and Inclusion, in webinar format. This has become an incredibly hot topic over the last six months and we are pleased to add it to our already incredible lineup of presentations for this year's conference. The Diversity & Inclusion webinar will be held immediately following lunch and is open to all HR professionals in your organization at no additional cost, if you are a registered conference participant. Jeff Smith from Fisher Phillips will be presenting the topic and elaborating on current events that are making employees and customers more aware of diversity and inclusion.
The Annual Graphic Media Alliance Sterling Distribution Golf Tournament will be held at the Delaware Golf Club in Delaware, Ohio on Monday, September 21st! Delaware is a unique and challenging course that will set the stage for a great day of golf. This is an in-person tournament just like every year and will be an incredible opportunity to get out and enjoy a great round of golf and networking. We will have a number of contests and prizes, as always, and the winning foursome will claim the coveted Printing Industry Cup.
This year we will include recognition of longtime industry member and Association supporter and friend, Mark Sparks. John Helline of BindTech and David Chilcote of Tap Packaging + Design will be sponsoring a "closest to the pin" contest that will raise funds to contribute to a PIEF scholarship in Mark's name. All funds contributed will be donated to this fund. There will be several other tributes to Mark throughout the day including a toast. Mark played in every golf event the Association has held for at least the last 15 years, winning the event in 2015 with the BindTech team. We hope you will plan to join us on for a great and safe golf event and to honor Mark and his life devoted to our industry.
Thank you for your membership and continued support of Graphic Media Alliance.
Print is Essential!
Following a major advocacy effort by GMA, PIA, and all major affiliated associations in our industry, printers and packagers have been specifically included as essential workers in the updated Guidance on the Essential Critical Infrastructure Workforce by the United States Department of Homeland Security's Cybersecurity and Infrastructure Agency (CISA) released on April 17, 2020. While CISA's guidance is not law nor a binding government regulation, it serves as an important benchmark by providing a standard definition of essential workers and encourages adoption by governors, county officials, and mayors. CISA estimates that approximately 75 percent of states have adopted its guidelines to create a more harmonious approach to determining which types of businesses remain open. A special thanks goes out to Government Affairs VP, Lisbeth Lyons, and PIA President, Michael Makin.
Membership
Networking, education, insurance and buying programs are all common reasons for joining an industry's association, but like any business decision, becoming a member of Graphic Media Alliance should be evaluated based on each company's assessment of its potential Return On Investment (ROI) for its dues dollar. Of course, every membership needs to take into consideration intangible benefits including networking opportunities, fellowship with other graphic communications firms and having a trusted confidant at the Association's office to discuss business issues.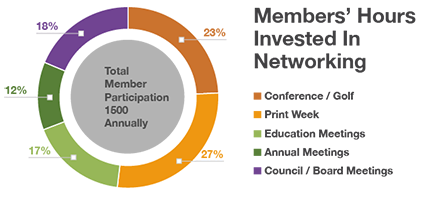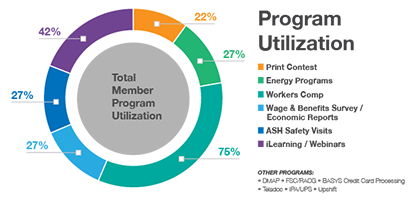 Meetings & Events
←
September 2020
→
S
M
T
W
T
F
S
1
2
3
4
5
6
7
8
9
10
11
12
13
14
15
16
17
18
19
20
21

Delaware Golf Club

September 21, 2020

22
23
24
25
26
27
28
29
30
Latest News
09/24/2020
Members had a great time networking and enjoyed a challenging round of golf at the 15th Annual Sterling Distribution Golf Tournament at Delaware Golf Club. Congratulations to our winners!
---
09/24/2020
Association partner, KOREnergy, would like to remind members that there will be a one-hour electric reduction test taking place for Ohio customers on Wednesday, September 30, from 4:00-5:00 pm.
---
09/24/2020
In times of stress and uncertainty, it's human nature to hunker down and wait it out, until we can safely return to what we once knew. This mindset, while it may seem safe, means your business is more likely to fail during times of rapid change. Instead, it's necessary to have a "growth mindset" to carry your company through. David Pilcher from Freeport Press shares his thoughts on how to come out ahead in 2020.