Welcome to Graphic Media Alliance
Download your Free 2021 USPS Postal Chart HERE and we will send you a hard copy via mail
---
The Association was pleased to bring back Gary Jones, Director of EHS Affairs at PRINTING United Alliance, to speak at our recent regional annual council meetings, November 9 - 12, 2020. Gary presented the changes that are occurring with OSHA and the USEPA.
In 2020, you cannot speak on OSHA without including COVID-19. OSHA has been enforcing Federal and State COVID-19 guidelines and have updated the recording and reporting guidelines for work related cases.
The USEPA has taken 69 deregulatory actions, and there are 33 that could be implemented under the current Trump Administration. With the recent election news, a change in administration could change deregulatory action and place regulations back into existence.
The Chemical Safety Board has released a final rule on reporting accidental chemical releases, while the Hazardous Waste Improvement Rule has revised the requirements for labeling and classifications for Small Quantity Generators. The USEPA has established .070 ppm (70 ppb) measured over 8 hours as the acceptable ozone pollutant level that is protective of human health and the environment. Areas that exceed this limit are classified as nonattainment and states with ozone nonattainment areas are required by the Clean Air Act to take certain measures to reduce the concentration of ozone in the atmosphere. While Columbus has reached Ozone Attainment status, other large cities including Cleveland, Cincinnati and Detroit are still classified as non-attainment. A timeline has been put in place for these cities to reach attainment.
OSHA penalty fines have increased for the year, however, due to COVID-19, 2020 has seen fewer inspections than previous years. Commercial printing companies across the country saw only 71 inspections with 48 violations. Though the Amputation National Emphasis Program now excludes most printing operations, amputations across the industry increased in 2018 and 2019 and there is concern the industry will be put back on the program. OSHA is continuing to work on revising and implementing proper Lockout/Tagout procedures.
Thank you to those who attended these informational meetings, and we are sure that you found many important takeaways from Gary's presentation. It you were unable to attend your region's meeting, the presentation videos and full PowerPoint slides are available to members on our website at graphicmedia.org.
These annual meetings were generously sponsored by Canon Solutions America.
The 2021 Print Excellence Awards (PEA) contest is now open! The submission deadline is set for the end of December, 2020. We encourage you to begin setting aside and submitting your entries. This year, we're on an adjusted timeframe, so judging won't take place in December as it usually does. Judging will take place in February, allowing us to accept entries at our Westerville office through the end of the year. We will gladly pick up your entries as soon as you have them ready.
This year's theme is Participation, and we've added some incentives. To encourage all member companies to participate, for your first five entries, you will receive a second entry at no charge. Double your recognition and marketing potential for the same entry fee! This year, we have created a new, interactive, Call for Entries form. This will make submitting your pieces even easier.
Every year out-of-state expert judges are brought in to review the entries and determine if they are worthy of a Bronze, Silver, Gold or even a Best of Region award at the regional level. These awards will be presented in March and April at our Print Week Events, which are planned to be live and in-person just like in the past.
Thank you for your membership and continued support of Graphic Media Alliance.
Membership
Networking, education, insurance and buying programs are all common reasons for joining an industry's association, but like any business decision, becoming a member of Graphic Media Alliance should be evaluated based on each company's assessment of its potential Return On Investment (ROI) for its dues dollar. Of course, every membership needs to take into consideration intangible benefits including networking opportunities, fellowship with other graphic communications firms and having a trusted confidant at the Association's office to discuss business issues.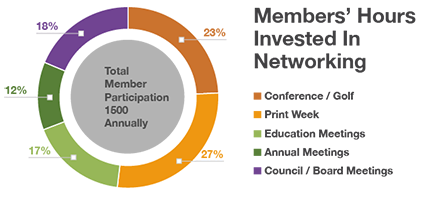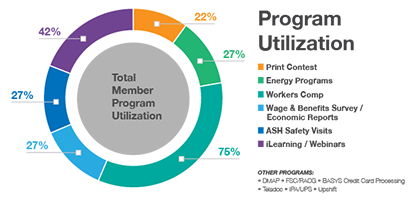 Meetings & Events
←
January 2021
→
S
M
T
W
T
F
S
1

Dec. 31, 2020 - Jan. 1, 2021

2
3
4
5
6
7

Zoom Video Conferencing

January 7, 2021




10:00-11:00AM

8
9
10
11
12
13
14

Zoom Video Conferencing

January 14, 2021




2:00-3:00PM

15
16
17
18
19
20
21

Zoom Video Conferencing

January 21, 2021




10:00-11:00AM

22
23
24
25
26
27
28

Zoom Video Conferencing

January 28, 2021




10:00-11:00AM

29
30
31
Latest News
01/12/2021
Stay up-to-date on the evolving updates regarding COVID-19. The latest news features Ohio, Michigan and Kentucky's plans for addressing the increasing cases of COVID-19.
---
01/05/2021
Our upcoming January council meetings will be focused on the latest COVID-19 relief legislation and how it will impact our members. We will start with a brief Regional Council meeting including an update of recent activities and news followed by a 45 minute presentation by Fisher & Phillips on the new legislation.
---
01/05/2021
Thank you for your participation in GMA's Print Excellence Awards contest, and please watch for upcoming information on the celebration events recognizing the winners in late Spring.